Chapter 3: Katharine Voth
In the fall of 1946 Allen enrolled at Bethel College. It was here that Allen became acquainted with a lovely young lady from Goessel, Kansas, Katharine or Kay Voth. While at Bethel College Allen was a member of the Thresher Football squad. He also appeared in at least two theatrical productions. One was a three act play with his character sporting a bum leg. Allen would sometimes walk around Bethel's campus with a bum leg. It was probably to stay in character. The other play was also a three act play. It was entitled, "The Scarecrow Creeps." In this production Allen portrayed the character Adam Grogg, a jewel thief, impersonating a butler to a wealthy family. Katharine was part of the Drama Club and she did much of the make-up for the actors. (52)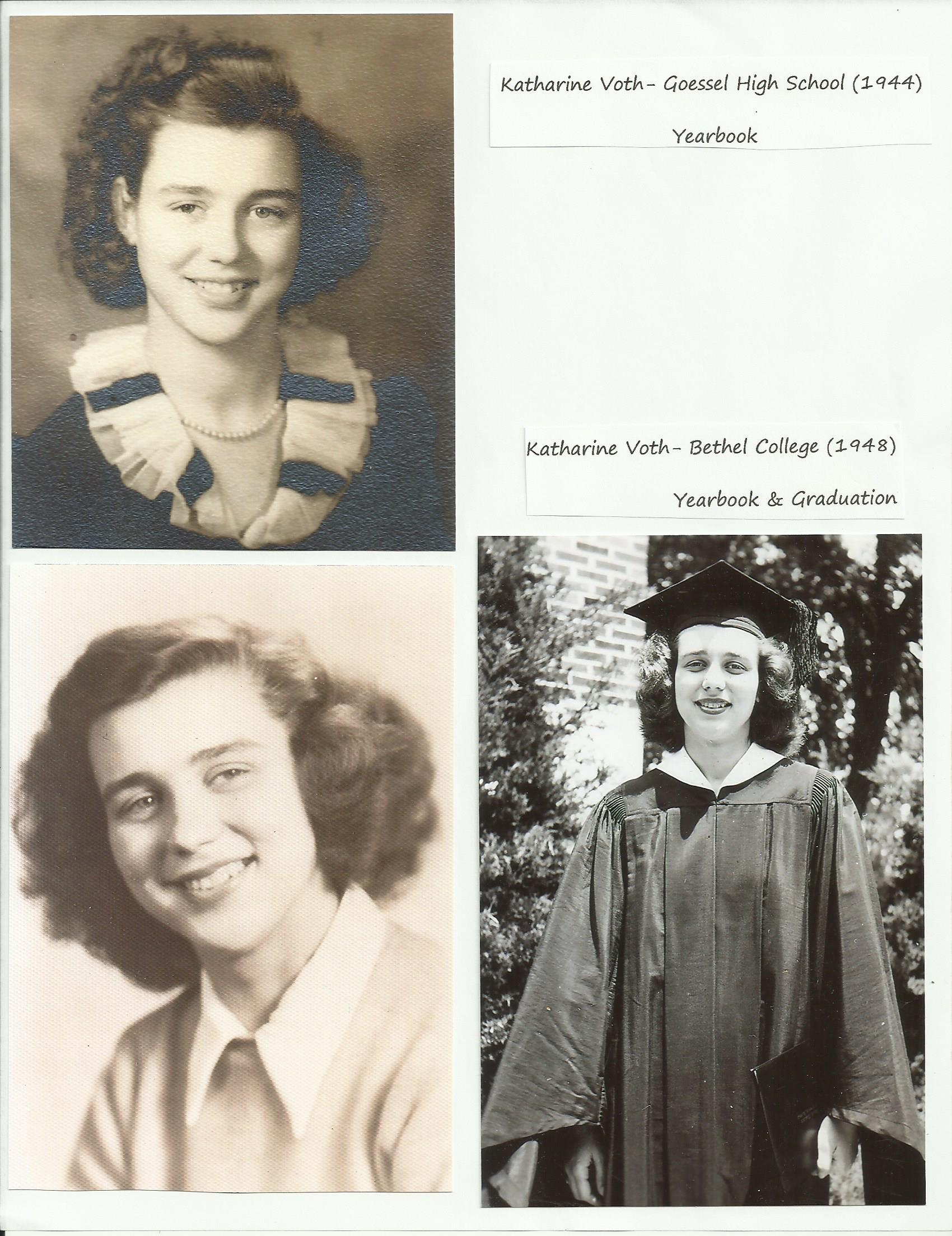 Allen's college career was unfortunately short-lived for in the summer of 1947 his dad, Will, suffered a broken hip, while putting up hay and was unable to do many of the physical demands of the farming, so Allen took over many of the farming responsibilites. Although farming was not really the planned vocation, it was with little regret that Allen changed plans and stayed home to assist his father, when needed.(53) He did continue his friendship with Katharine through letter writing and occasional visits to North Newton, Kansas to see her.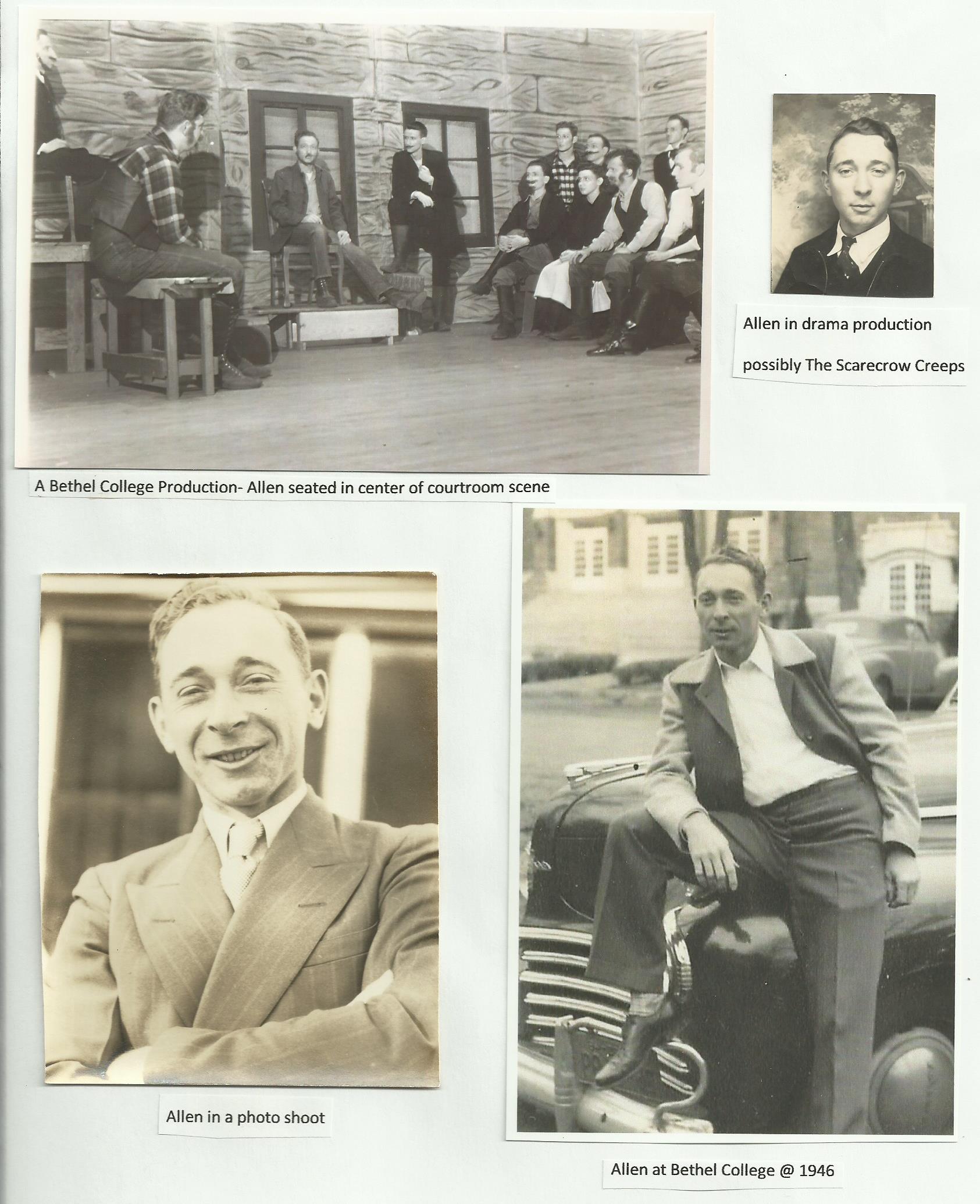 Katharine Norma Voth was born July 31, 1927 in Goessel, Kansas. She was the daughter of Henry C. Voth, who was born June 22, 1888 and Martha E. Schmidt Voth, who was born September 21, 1890. Katharine's father,Henry was a farmer, but in his early years he had been a teacher in the Hillsboro area and the Goessel Public School System. Her mother, Martha, was a devoted wife and mother. In her early years she had worked as a cook at the school where her husband, Henry, taught. Katharine shared that her mother really enjoyed her work there.
Katharine's grandparents, Heinrich and Anna Schmidt had lived previously in Russia in the village of Gnadental, located in the Molotschna Colony in Southern Russia. In an account taken from the Peter Unruh Genealogy,
they left their cherished home......on July 20, 1874. They arrived in New York City August 15, 1874. A group traveled to Lincoln, Nebraska from there a group would leave for Topeka where they stayed in a vacant factory building for two weeks.... The railroad company transported this group free of charge to Newton, Kansas. From Topeka they went direct to Newton on the train. The account of the family's move to Kansas follows: Here our parents bought a wagon for $83.00 and a harness for $26.00. Now they could at last pack some of their belongings in their own wagon and go to the imigrant house. After the land was divided our family moved on to their own land into a small shack on November 10. Here they lived until their house was finished in December. This was 13 miles north of Newton. Provisions and other necessities were bought in Newton although a few times they went to Halstead to buy flour from Bernard Warkentine.(54)
Henry and Martha had purchased a farm outside of Goessel, Kansas. This is where Katharine and her siblings grew up. Katharine received her primary education in Green Valley School, which was a one room schoolhouse, located 3 miles east of Goessel. She was the only one in her class. Since German was spoken in the home, Katharine would learn English from her two older siblings; Harold William was born November 20, 1923, and Louise Margaret was born August 25, 1925. Katharine often told the story of how she learned to read upside down by looking over the shoulders of her two older siblings as they read their lessons. Katharine was joined later by two younger brothers; Vernon Henry was born November 8, 1930 and Weldon Roy was born March 6, 1939.(55)
As a student Katharine excelled, her two favorite subjects in school were Math and English. It was because of an English teacher that Katharine had in high school that she decided she wanted to go into teaching. In her Freshman year of high school, Katharine was on a co-ed softball team. The P.E teacher was wanting to get a team organized. Since she had little interest in playing, her softball career was brief.
Katharine played the clarinet in the Goessel High School band. In the recent mailing from the Goessel School newsletter, Goessel Bluebirds, to the alumni, an article was written about the beginning of the Goessel School band. Herb Franz was hired in 1940 as the band instructor. Katharine remembers him as a young unmarried teacher. The article goes on to say that the Goessel Band played at the first Santa Claus parade in downtown Newton in 1941. Katharine remembers being in the band at that time and playing for the event. She would continue playing her clarinet while a student at Bethel College in the pep band.(56)
She graduated from Goessel High School in 1944. After her graduation, she attended Bethel College in North Newton, Kansas. As a student she was involved with several organizations and took on leadership positions. She was a member of the Drama Club, Future Teachers of America Club, Assistant Editor of The Collegian and she was secre- rary of the Class of 1948. To earn money as a student, Katharine worked as office help for the Professor of Commerce, Bernhard Bargen. In the summers she worked in the printing office with Amanda Ediger Bartel. Amanda related that during World War II, there were very few male students in her classes at Bethel College. That would quickly change with men returning home from either public service or from the war. It was then at the beginning of Katharine's Junior year at Bethel that she became acquainted with Allen Moyer. Katharine was ten years younger than Allen and was in no hurry to start a relationship. She was eager to complete her degree in secondary education and graduate from Bethel. A friendship ensued and Allen and Katharine would correspond by letter writing. Katharine wrote to Allen about her voluntary service in Pueblo, Colorado, where she spent the summer of her Junior year working in a mental hospital. She was in charge of writing a newsletter that would be sent to family and friends. It outlined much of the work that these young people were doing there. The staff at first were suspicious as to how these young people were caring for the mentally ill patients. They would later adopt many of these practices as well. When Katharine returned home from voluntary service, she found her relationship with Allen becoming more serious.
Copyright Rose Moyer, 2015, All rights reserved.