Broken Budget Rental Car
We saved money by getting this tiny Nissan Micra rental car in Ireland. Sometimes it started and sometimes it did not start. Usually if I tried it enought times, then it would start, but on our last day in Ireland, we were at the beach at Spanish Point

and it would not start no matter what I did. So I phoned the Nissan toll free number on the rental agreement and Nissan told me that the car was no longer under warranty.
Next, I phoned Budget at their toll free number and they told me that I should phone Nissan since the car is under warranty. I told them that Nissan said that the car is too old to be under warranty. They said that they only rent new cars with warranties. I suggested that they explain this to Nissan. Budget then said that I should call the Auto Club.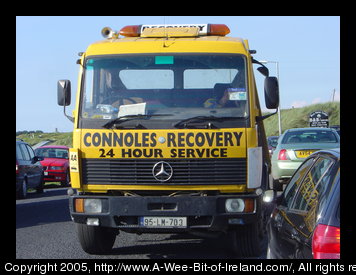 When the Auto Club recovery truck (tow truck for those of us on this side of the water) arrived, the kind gentleman from the Auto Club could not get it to start either. He tried several times. He speculated that it might be the starter motor. He made some phone calls and tried again with no success. I suggested that it might be the ignition switch that was worn out. He made another phone call and then got in and started it right up. I asked how he did that and he told me that you need to give it an extra push just as the key has turned all of the way in the ignition. I suspect that it also helped that it was getting late by then and it was cooling off and it seemed to start more readily when it was cool out.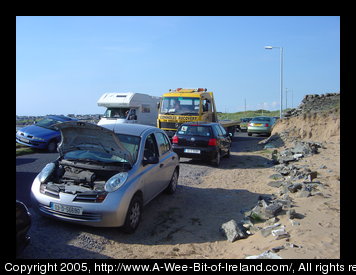 Early the next morning, allowing extra time for a rental car that might break, we went to the Shannon Airport. The rude Budget Rental Car employee on duty asked if we had any trouble with the car and I said "Yes!", Sometimes the car starts and sometimes it does not. I suggested that the ignition switch might need replacing. I was answered with "Everyone knows that you have to give the key an extra push when starting a Nissan, at least everyone but Americans." These days it is not so unexpected or undeserved that an an American in Europe would get some insults, but I would expect the insults in the pub or in the bad part of town and not from a Budget Rental Car employee.
My advice for those who rent an automobile in Ireland is to use some company other than Budget.
Copyright 2005, John Moyer send email to John Moyer, jrm@rsok.com