Research Solutions of Oklahoma™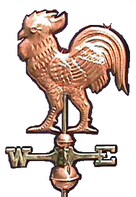 Measuring The Winds of Change
Photos by John Moyer
Photos by John Moyer are at https://www.rsok.com/~jrm/photos/index.html.
Research Solutions of Oklahoma™
Research Solutions of Oklahoma™ is a different type of research firm. Our clients trust us to help them use their data to make the strategic decisions so necessary to survive in today's business world. We specialize in advertising, new product and communication research.
Relationship is important to us. We serve a small, select group of clients who are dedicated to using market research to create products, advertisements and services that meet the demands of their customers. If there isnt a good working relationship between client and customer, we dont take the project on.
If you think you meet our client criteria, contact Janne ODonnell at mailto:jmo@RSOK.com.
We offer the following services.
Qualitative Studies
Qualitative studies are used to spot trends, measure perceptions and develop themes. They are not statistically valid but do provide a quick, inexpensive method of gathering data. The most used form of qualitative research is a focus group. Focus groups are an excellent way to test audience reactions to issues, messages, new products or ideas. They are also used to develop and test questionnaires before a full scale quantitative study is launched. For one price, Research Solutions designs the focus group study material, recruits group members, moderates the groups and produces a top-line analysis.
Quantitative Studies
Quantitative studies are used when you want statistically valid information to reduce the risk associated with making business decisions in areas such as:
Advertising,
New product development,
Customer satisfaction/loyalty, and
Image/identity.
Quantitative studies are also used to analyze how and why a company, or product, is perceived by customers. When you hire Research Solutions, you get your study designed, the sample selected, the study fielded, the data analyzed, frequency reports, cross-tabulations, charts, graphs and actionable recommendations.
Research Solutions of Oklahoma (tm)
Research Solutions of Oklahoma
3000 Ginger Drive
Norman, Oklahoma 73026
USA

Email: research@RSOK.com