Chapter 7: The Deer Creek Mennonite Church
The Deer Creek Mennonite Church was an essential part of the community of Anabaptists who resided in Deer Creek. It was here that they would not only gather for worship, but also for socializing. It was the center for solidifying the beliefs of the Mennonites. With the onset of World war I there was much anti-German sentiment, "Anti-German sentiment ran high with the then President Woodrow Wilson in 1916 referring to the dangers of hyphenated Americans in a speech during his campaign. This speech aroused much Anti-German hostility in the Deer Creek community since the Mennonites used German in their homes and church services."(77) "The German language was used exclusively until 1920 except in a few Sunday School classes. During the next seven years there was a gradual change to the English language. By 1928 the English was used in every area except two Sunday School classes among our older folk, where German is still used today." (78)
The attitude would change with the ending of World War I much to the relief of the Mennonite families. As a member of the Deer Creek Mennonite Church, Allen was baptized on December 27, 1931 by Rev. Andrew S. Bechtel. (79)
The church began to flourish with young families. "Knowing that in the future there would be a need for more adequate facilities, in 1939 the congregation took one offering a month for the 'building fund'. In 1950 the congregation, under the leadership of Rev. Richard Ratzlaff, decided to build a new building north of the parsonage. In anticipation of the new building on December 1, 1949, men from the congregation purchased a church building and a store in Salt Fork which was for sale. The church building was dismantled and the lumber hauled to Deer Creek for use in building the Mennonite Church, according to a diary from Mrs. David Krehbiel."(80) Rev. Ratzlaff was a young minister serving as pastor for the congregation from 1948-1951. He remembers pulling nails from the used lumber along side Allen. They had actually attended Bethel College about the same time. He remembers Allen as a quiet fellow who was a hard worker and strong!(81) "This lumber was used in framing the basement and later went into the rafters of the present building."(82) Rev. Ratzlaff offered some other insight into this incredible building process. He said that it was composed of a largely volunteer workforce. Volunteers worked day and night on this project.(83) According to a Dedication pamphlet, "Plans were drawn up, revised as the building progressed. No blueprint was ever made, though Mr. Porr from the Enid Concrete and Stone Co. drew a good floor plan for us."(84) The basement was dug in August 1950 by Marvin Dester, who owned a bulldozer, according to Rev. Ratzlaff. They rented a two-sack cement mixer and thought that is would take 40 hours to pour the concrete for the basement.(85) The volunteers began early in the morning and worked long hours into the night. The process was completed in 24 hours!!(86) That same fall and winter saw the basement wall and floors poured, and the blocks on their way up.(87) When asked how long the building process took, Rev. Ratzlaff said that with the planning and then the building, it actually took three years to complete.(88) The approximate cost was $20,000 plus many hours of donated labor.(89)
The cornerstone was laid on March 4, 1951 with John Stauffer, a charter member, placing the items inside. The building was finished in 1952, with the last service in the old building on October 19, 1952. Instead of closing the service in the old Church, the pastor Carl Landis, led the entire congregation on a "Silent Pilgrimage" to the new Sanctuary, where the congregation sang, "Take Thou My Hand O Father," as they entered. Thus the old and the new were linked together into a continous Christian witness and fellowship in this community.(90)
Allen along with many other members of the church volunteered their time and committment to this incredible undertaking. It was with little wonder that the Church was so important to him and to Katharine.
Allen was very active in the church. He held various offices such as Sunday School teacher, Sunday School Superintendent, church secretary, Deacon, Youth sponsor, and Chairman of the Church Board. Allen was also very active in the Men's Fellowship organization of the church. The men would sponsor a Chili Supper and all men in the area were invited. It was a tremendous success. The Men's Fellowship would have a program and invite interesting speakers. "Allen contacted Prentice Gautt, the first black football player recruited by the University of Oklahoma to speak at one of their pro- grams. Allen received a response from Prentiss, declining the invitation because he was in the hospital recovering from an injury".(91)
Katharine was also very involved with the church. She was a member of the Women in Mission group. One of the projects the ladies of the church enjoyed was getting together for quilting. A quilt was made by various women of the church and then donated to the Mennonite Relief Sale to be auctioned with proceeds going toward various world- wide needs. The Oklahoma MCC Sale was held in the fall at Fairview and then later moved to the Chisholm Trail Expo Center in Enid. Along with items to auction were also items for sale such as food items, crafts and homemade items. The money raised by this and other projects provided funding for MCC programs that targeted domestic and international problems of hunger, provided educational kits for children and many other humanitarian concerns. Katharine and the other women of the church also sewed up book bags for school items. The congregation also felt that Katharine had leadership abilities, when the church body nominated her as the first woman Deacon of the Deer Creek Mennonite Church.
As John, Chuck & Jerry can attest church membership and attendance were expected in the Moyer household.(92)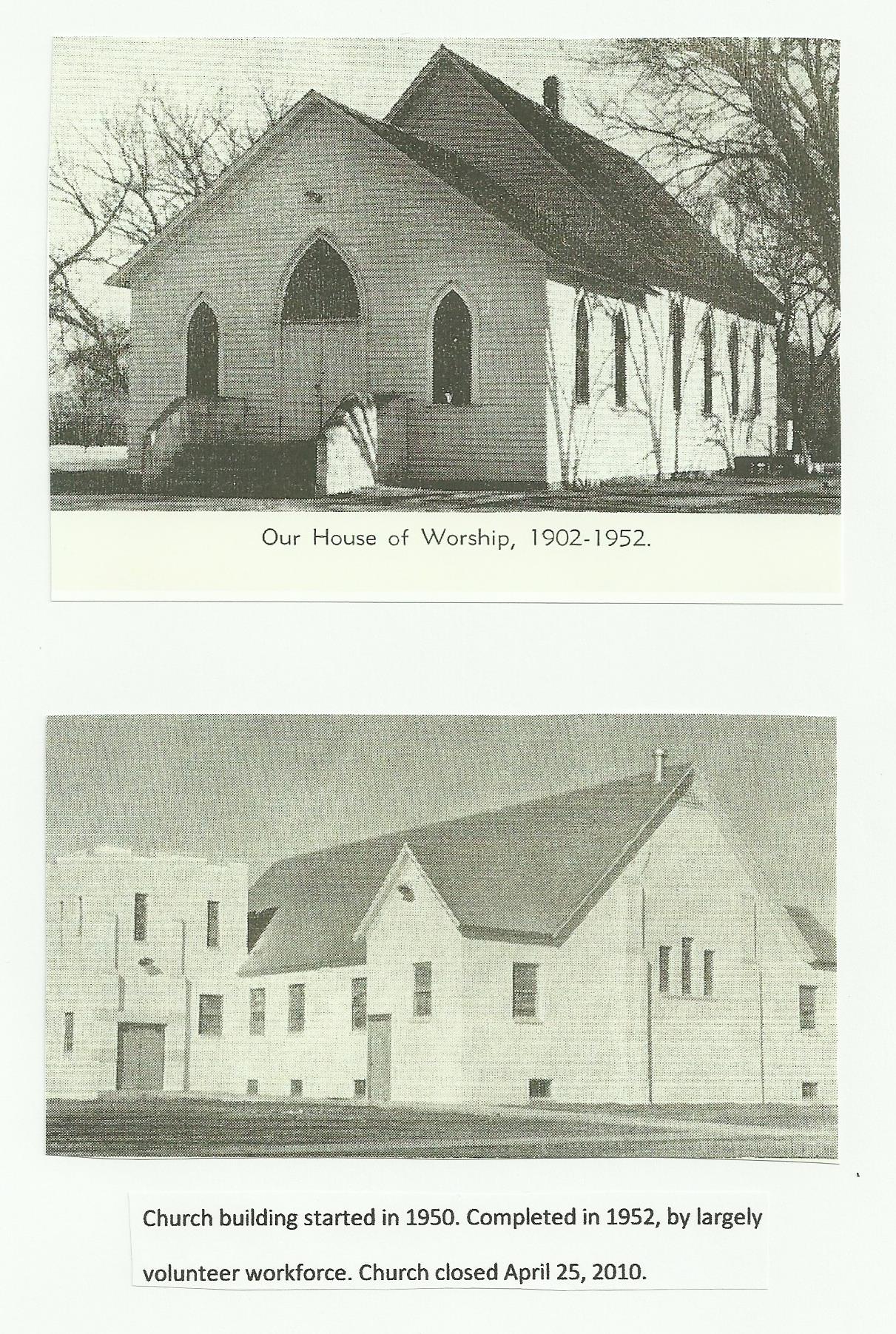 Copyright Rose Moyer, 2015, All rights reserved.